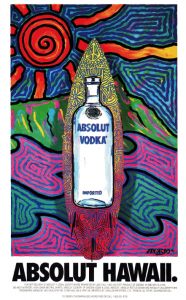 EDUARDO BOLIOLI
Born in Montevideo, Uruguay in 1961, Eduardo Bolioli migrated to New York with his family in the late seventies, where he studied at the prestigious School of Visual Arts. He moved to Honolulu in the mid-eighties, and made a living painting surfboards for pro surfers, including world champions Shaun Tomson, Sunny Garcia and Martin Potter. He became the art director for Blue Hawaii Surf, and later, for Local Motion, and he designed for surf brands like Quiksilver, Billabong and Gotcha.
Bolioli's art caught the attention of Hawaiian concert promoters, and he created concert posters for local appearances of Miles Davies, UB40, Aerosmith, and Seinfeld. Attracted to Bolioli's distinctive style, Miles Tanaka, the art director at VHI, brought him to New York to create several designs and animations for the music channel.
In 1991 Absolut Vodka chose Bolioli to become the Absolut Hawai'i artist, and commissioned him to create a painting for the ABSOLUT HAWAI'I ad that took part of their Statehood campaign. Bolioli's ad campaign appeared in Newsweek, Time Magazine and USA Today, and a limited edition lithograph of his painting was made, with proceeds going to DIFFA. In 1993 Absolut Vodka asked Bolioli to create a painting for the Absolut Uruguay ad, move to his native country, and become the spokesman for Absolut during the campaign. In late 1993 Bolioli signed an exclusive management deal with PCI, an art publishing firm based in San Francisco with galleries in NYC, San Francisco and Los Angeles.
By 1995 just before the birth of his first son, Bolioli's artworks were stolen when PCI closed without notice. With a new family to support, Bolioli worked as a salesman and marketing assistant for Seagrams, which distributed Absolut. He raised his two boys in Uruguay, and in 2014 he left South America for Honolulu once again, eager to paint and create after a long journey away from his art.
Bolioli has won several awards for his art, including the Aloha Award by the HACER Society in 1992, the Stimulus Award at The Mosca Biennale in Uruguay (1995) and the Premiere award in Les Embiez, France. In 2002 he received the golden award for his contribution to the arts at the Premios a la Cultura awards in Montevideo, Uruguay, and his Absolut pieces are part of the Absolut Museum in Sweden. Over the years he had solo and group shows in New York, Los Angeles, Honolulu, Tokyo, Seattle, Kona, Scotland, Caracas, Lima, Bogota, Quito, Uruguay, Miami, San Francisco and New Jersey, and his paintings are in private collections around the world.